Guest rooms
All of our guest rooms have traditional "tatami" rice straw mats. They smell great and are warmer than other types of flooring. Futon "beds" are thick mattresses placed directly on the floor. With a luxurious quilt on top you are warm whatever the weather. Matsumoto Backpackers hostel offers private rooms for two or more guests and dormitory rooms for three and four guests. Enjoy your stay!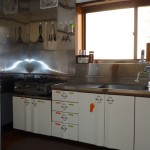 Kitchen
Matsumoto Backpackers hostel has a well-equipped kitchen for those who wish to cook their own meals. We host regular cooking events including "nabe" hotpots in winter and "yakiniku" riverside BBQs in summer. If you're a foodie or a culinary wonder, our kitchen is at your disposal!
Common Room
Our tatami floored common room is the main place guests can relax and have food. It is the ideal place to talk about your adventures or discuss upcoming plans. It comes with a well stocked library for those with an interest in travelling or mountaineering. Most of our staff are also found here, so if there's anything you would like to ask, you know where to find us!
Garden & Smoking Area
We are quite proud of our Japanese garden. What it lacks in size it makes up for in variety with colourful Momoji and delicate shrubs. We also have a vegetable patch to help us cook up a storm in the kitchen. If you have green fingers, you are welcome to jump in!
MBP is a smoke-free accommodation. Please relax in front of the garden at the designated riverside smoking area.
Happy with what you see? Book a room with us today!